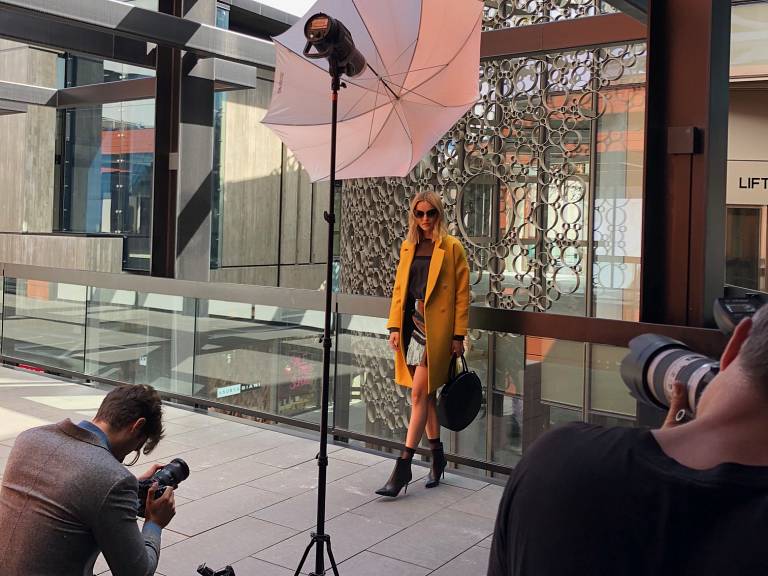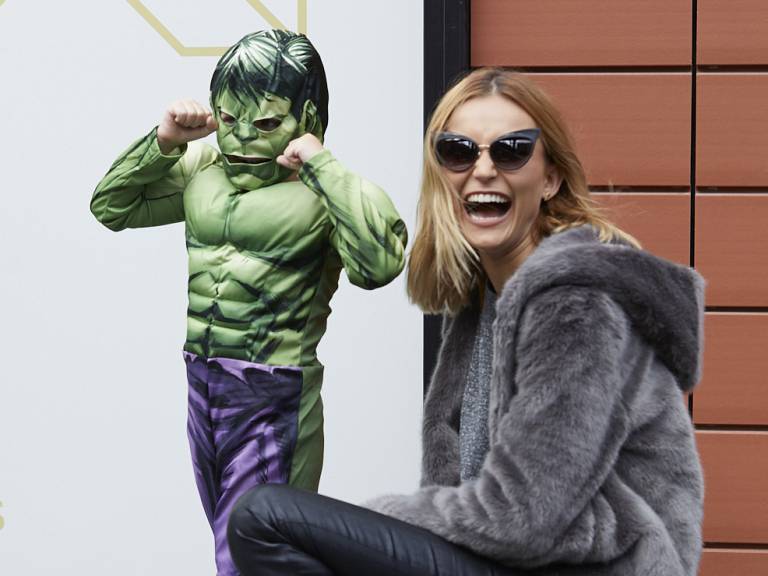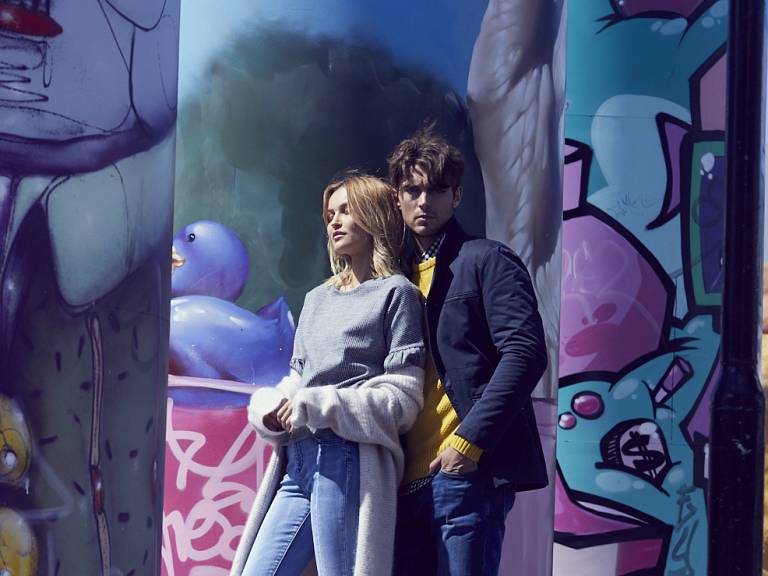 Behind the scenes: A sneak peek at our winter campaign
BEHIND THE SCENES: A SNEAK PEEK AT OUR WINTER CAMPAIGN
The inspiration behind The Crossing's winter shoot speaks to the best autumn/winter fashion trends we have to offer but also tells a bigger story – and it's one that every Cantabarian can feel proud of.
Tailored coats. Long, flowing printed satin dresses. Rows of the latest footwear. There's a flurry of covetable, just-dropped fashion as we enter the room. We do a quick scan across at the team: the award-winning photographer checks his lenses, the hair and make-up artist lays out her brushes, the models lounge on the couch, and the stylist pulls together items off the clothing rail and works them into enviable winter outfits.
Soon the team are ready: they're about to shoot The Crossing's winter campaign, which will not only celebrate great fashion with its strong-on-style looks supplied by the precinct's stores, but also capture the vibrancy and energy of Christchurch's regenerated inner city.
Across the heart of the city
Hotspots in and around The Crossing provide the perfect backdrop for the team to create campaign images to showcase the best winter looks the precinct has to offer.
We kick off at one of The Crossing's laneways: the model wears a textured knit with delicate metallic thread woven through, black skinny jeans and a faux fur jacket – and the contrast between the slick architectural lines and the layered warmth of her outfit is simply arresting.
As we shoot around the other unique design features at The Crossing, it becomes abundantly clear the precinct embodies the urban essence that we love most about the CBD. Shoppers slow down and stare – for one shot, a woman offers her equally-fashionable pooch to star alongside the model. It's a day filled with an atmosphere of excitement!
As the shoot progresses, we move on to iconic locations just outside The Crossing: Instagram-worthy graffiti walls, the 'Wish You Were Here' installation, a city rooftop with magnificent views.
But it's the final campaign images that tell the real story: the garden city of Christchurch has an incredible spirit and it's reinventing itself in the most awe-inspiring and colourful way.
The fashion inspiration
Winter's hottest trends involving key colours, rich textures and dramatic patterns were at the core of the looks created for the campaign.
The models sported checks, leather, lacquered denim, faux fur, matte satin and mohair to showcase a range of must-have elegant and urban outfits.
To keep Cantabarians warm in the colder months ahead, an emphasis on layering sees textured coats styled over both check suits and leisurewear.
The mid-length fur coat remains an essential winter wardrobe builder, and offers an interesting way to play with texture in your wardrobe – as does juxtaposing delicate georgette dresses with cropped biker jackets. Overall, its saturated colour – reflected by the graffiti walls the campaign has been shot against – that come through strongly in the created images.