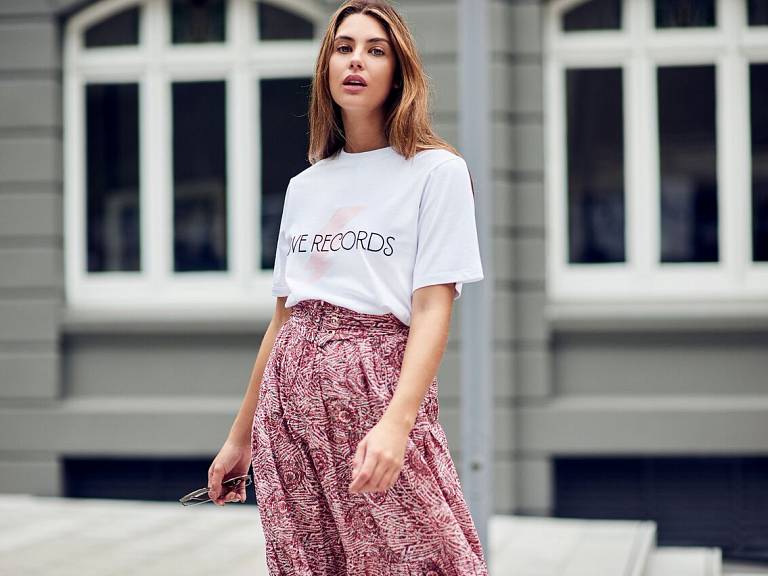 RUBY Loves Records
Every summer needs a soundtrack and every soundtrack needs a new collection to match. Say hello to Love Records, the latest collection from RUBY. For the summer that is endless and the girl whose life is a melody, Love Records is as colourful and diverse as a sunset on a road trip. It's time to don your pinstripes and choose your alter ego, but bear in mind that Ziggy Stardust has already been borrowed by RUBY Creative Director, Deanna Didovic.
With juxtaposition running rampant throughout the collection, nothing is two-dimensional. The Ziggy Pantsuit, with its wide pants and criss-cross back detailing, is a visual mic drop. Other silhouettes, of billowing dresses and fitted bodices, give the collection an edge, refusing to confirm to a type.
Fabrication is of soft chiffons, crisp cottons and detailed lace. A psychedelic display of sassy pinks, greens and oranges is the synthesizer for the Crush Skirt, Ruffle Short and Crop. An ode to the darling of punk is made through a black and white floral, chameleons themselves, changing from girly to grunge with a lick of creative styling. The feminine blue and pink lace of The Flowers Dress and Blouse is the fruit of star-crossed lovers that only a perfect summer could produce.
Jaime Ridge is another member of the band. She's also a Creative Director, Digital Influencer and the Stylist and Model for Love Records. Jaime, vibrant and spirited, embodies the vibe of the collection, and with her quintessential RUBY girl style, she turns up the volume with her own Love Records spin.
Love Records beckons the RUBY girl with its classic charm, while inviting her to push play on a summer that is long and everlasting, with a sprinkling of stardust. Pop meets punk, meets rock, meets RUBY. Embrace the new underground of 2018.
Love Records is set to arrive in store this Friday 19th January!